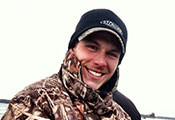 Captain Brad Smyth
Location: Detroit, St. Clair Shores, Bay City
Bodies of water fished: Detroit River, Lake St. Clair
Species: Walleye, Muskie, Smallmouth Bass

Brad was born to be a sportsman! He grew up in Sterling Heights, MI, spending nearly every weekend and summer in the town of Port Hope on the shores of Lake Huron. Since he was old enough to hold a rod, he has been enamored with fishing.

As he grew older, he knew he wanted to become a professional fisherman, reading and watching anything that would feed his passion for the sport and all its intricacies. By the time he was in 6th grade, he had saved up enough money for a 14' boat, trailer, and all the tackle he needed to target Michigan species. As the years went by, he gained knowledge of the seasonal migrations and habits of nearly every species in the Great lakes. He's particularly fond of vertical jigging, and the active bite it produces.

Join Brad for an exciting day of fishing and share his passion for the outdoors!