Press/News:
---
MyNorth Magazine: Fishing for Cisco in Grand Traverse Bays with Sport Fish Michigan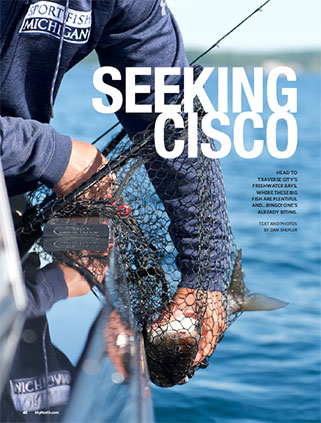 MyNorth Magazine's Dan Shepler joins Sport Fish Michigan's Capt. Ben Wolfe for a day of fishing the Grand Traverse Bays for cisco.

Read More (PDF) >>



---
Traverse City Ice Fishing: A Zen-Like Experience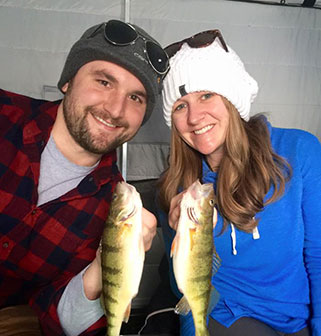 Captain Ben Wolfe of Sport Fish Michigan is quoted in this article from the Arlington Heights Journal about the experience of ice fishing in the Traverse City area.

Read More (PDF) >>



---
Chicago Magazine - Michigan Ice Fishing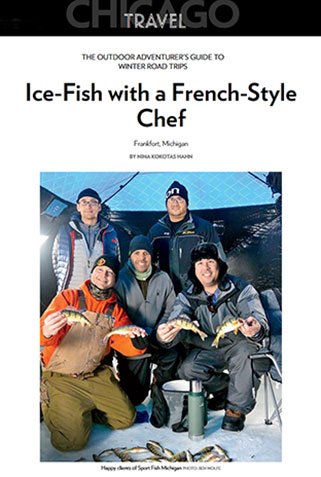 Chicago Magazine featured Sport Fish Michigan's ice fishing operation in their January, 2016 issue.

Read More >>
---
Ben Wolfe Featured in "Traverse Magazine December 2015" Article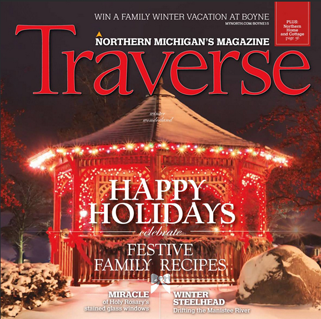 Traverse Magazine's December 2015 issue included an article about steelhead fishing in northern Michigan featuring Ben Wolfe, the owner of Sport Fish Michigan.

Read More >>
---
Ben Wolfe Featured in "Reflections from 100 Fly Fishers" Book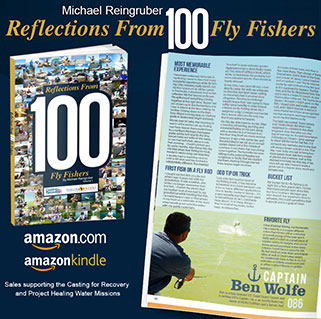 Reflections from 100 Fly Fishers is a beautiful collection of fly fishing memories and tips from over 100 top guides and fly fishers from across the globe. All profits support the Casting for Recovery and Project Healing Waters Missions.

Read More >>
---
Smithsonian.com Features Traverse City, Michigan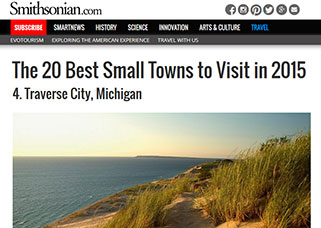 Smithsonian featured Traverse City, Michigan, in their list of "The 20 Best Small Towns to Visit in 2015"

Read More >>
---
Chicago's WGN TV - Summer Vacations to Book Now
Chicago's WGN News features Michigan's west coast as a great summer vacation, and notes that Ben Wolfe, owner of Sport Fish Michigan has exclusive access to fishing near Sleeping Bear Dunes.

Read More >>
---
Chicago Magazine features the Michigan Coast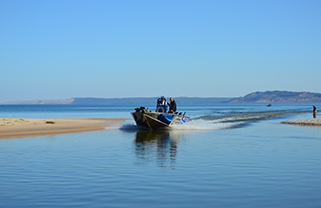 In an article entitled "Four Epic Summer Trips to Book Now," Chicago magazine recommends a Michigan Coast Road Trip. Come see the beauty of northern Michigan!

Read More >>
---
Ben Wolfe / Wolfe Outfitters Featured in Condé Nast Traveler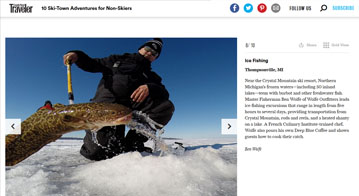 Ben Wolfe and Wolfe Outfitters are featured in an article in Condé Nast Traveler - "10 Ski-Town Adventures for Non-Skiers."

Read More >>
---
Ben Wolfe Featured in Crystal Mountain's Mountain Life Magazine Summer 2014 Issue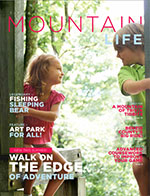 Ben Wolfe was featured in an article entitled "Fish On!" in the Summer 2014 issue of Mountain Life Magazine, produced by Crystal Mountain, which is located in Thompsonville, Michigan, and home to Ben's company, Wolfe Outfitters.

In addition to providing background on Ben and his inspiration to provide fishing guide services in northern Michigan, the article features information about Wolfe Outfitter's exclusive National Park Service permit to guide trips at Sleeping Bear Dunes. According to the article, "The Platte River is considered the place where Lake Michigan salmon fishing was born after DNR biologists began stocking the fish in the river's headwaters in 1964. The tailwaters of the Platte - the mouth of the river out to and including the open water of Platte Bay a half-mile offshore - lies within the boundaries of the 50,000-acre Sleeping Bear Dunes National Lakeshore, a place that was voted "America's Most Beautiful Place" by viewers of ABC's Good Morning America in 2011."
---
Grand Traverse Bays Recognized by Bassmaster and World Fishing Network as a Top Smallmouth Fishing Location
Michigan's Grand Traverse Bays are getting the recognition they deserve as one of the best smallmouth bass fisheries in the United States. As any Traverse City Bass Guide Service customer knows, these bays provide incredible bass fishing opportunities. The high number of fish in the Grand Traverse Bays create some of the most fun and exciting bass fishing not only in Michigan, but in the U.S.

See the World Fishing Network article 7 Best Lakes to Catch Smallmouth Bass and Bassmaster's Top 100 Bass Lakes of 2014.
---
Ben Wolfe Interviewed for the July 2014 Issue of Traverse Magazine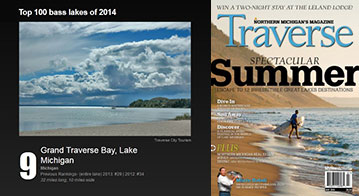 Ben Wolfe of Sport Fish Michigan and Traverse City Bass Guide Service, spoke with Traverse Magazine about Bassmaster Magazine ranking Grand Traverse Bay, located near Traverse City, Michigan, area as one of their Top 100 Bass Lakes of 2014. Grand Traverse Bay, Lake Michigan, was ranked #9 by Bassmaster Magazine and Bassmaster.com, both publications of B.A.S.S.
---
Fishing in Northern Michigan's Benzie County Along the Sleeping Bear Dunes National Lakeshore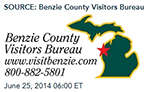 Meet Captain Ben Wolfe: Seasoned Captain, Savvy Fishing Guide and French Culinary Institute Trained Chef

BENZONIA, MI--(Marketwired - Jun 25, 2014) - It makes sense that one of Michigan's most talented big lake and river fishing guides lives in Northern Michigan's Benzie County with nearly 30 miles of Sleeping Bear Dunes National Lakeshore, 50 inland lakes and two fishing rivers, the Betsie and the Platte.

Ben Wolfe, a seasoned captain and fishing guide is the only licensed commercial guide who can fish within 1/2 mile of the Sleeping Bear Dunes National Lakeshore. He states, "In the first two weeks of September there are estimated to be 60,000 fish at the mouth of the Platte River that come back to spawn. From that vantage point along the Sleeping Bear Dunes National Lakeshore you can see 40 feet down. It's an amazing experience."

Read More >>
---
Sport Fish Michigan Sponsors the Outdoor Channel's Hook n' Look Television Series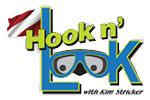 Sport Fish Michigan is proud to be a sponsor of Hook n' Look, starring Kim Stricker, which airs on the Outdoor Channel. Much more than a fishing show, Hook n' Look offers viewers a unique perspective on angling - a view from under the water! Both Kim and his son, Danny, are experienced divers and they combine their diving and angling skills to provide viewers with unparalleled information gained by experiencing fishing from both above and below the water.

Ben Wolfe, owner of Sport Fish Michigan said, "Education is a big part of what Captains and Guides offer to anglers, and understanding the underwater landscape is critical to success. This is a key premise of the Hook N' Look program, and a partnership between Sport Fish Michigan and Hook N' Look makes sense. Kim's love of his home state of Michigan only furthers this partnership. Through the Hook N' Look show, he often showcases the beauty and pristine nature that Michigan's waters have to offer."

"Sport Fish Michigan has a very similar goal: we aim to heighten each angler's experience through a keen understanding of not only the pieces of the puzzle happening above the water, but understanding what is happening below the water, as well. Sport Fish Michigan's Captains and Guides have years of experience on the water, and with our partnership with Hook N' Look, we are excited to promote the world-class fishing that Michigan has to offer on waters that Kim (and Danny) have spent countless hours on filming their outstanding show."

Visit the Hook n' Look website.
---
Wolfe Outfitters Nominated as Business of the Year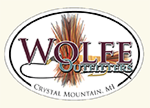 Wolfe Outfitters, part of the Sport Fish Michigan family of guide services, was nominated for Benzie County Chamber of Commerce's Business of the Year award. Ben Wolfe, owner of Wolfe Outfitters, said, "We are both proud and humbled to have had Wolfe Outfitters nominated for 2013 Outstanding Business of the Year here in Benzie County! Thank you to all of those that have worked hard and helped to make this young business what it is; what it strives to be; and what it will ultimately become."

Wolfe Outfitters features guided fly fishing trips, classes, and individual instruction to anglers as well as guided fishing trips using conventional tackle and gear. With multiple guides on staff, Wolfe Outfitters is able to accommodate many different anglers, and target many different species on multiple water systems. Wolfe Outfitters operates on the Big Manistee River, the Betsie, Boardman, Au Sable and Platte Rivers as well as many inland lakes.

Visit Wolfe Outfitters online.
---
Hook n' Look from the Outdoor Channel Fishes with Sport Fish Michigan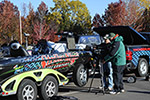 Captain Ben Wolfe recently filmed an episode of the Outdoor Channel's "Hook n' Look" television show with Kim and Danny Stricker. The show focused on spinnerbaits, and featuring Strike King tour grade spinnerbaits. Captain Ben lead the show's crew to the best fishing spots in Northern Michigan for smallmouth bass and, despite difficult weather conditions, confidence and persistence along with a lot of Ben's own Deep Blue Coffee Company coffee made the TV show shoot successful and fun.
---
Captain Ben Wolfe's Deep Blue Coffee Company® is now a proud sponsor of the Outdoor Channel's Hook n' Look TV Show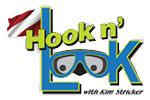 HOOK N' LOOK DIVES INTO DEEP BLUE COFFEE!
Considering the names of some of Deep Blue Coffee's hand-crafted blends, Traverse City Bass Blend, Anglers Blend, Great Lakes Blend, Hook n' Look is especially proud to announce a promotional agreement with the Traverse City, Michigan based coffee company. Each custom roasted blend displays a satisfying richness which will please any palate. Try some for yourself! We're thoroughly confident you'll agree that Deep Blue Coffee is unforgettably delicious!
---
Ben Wolfe Mentioned in IGFA Newsletter
Ben Wolfe quoted on the topic of the Asian Carp invasion in the International Game Fish Association Newsletter.

---
Wolfe Outfitters Mentioned in Benzie County Record Patriot

THOMPSONVILLE - Featured alongside destinations like Vail, Beaver Creek and Stowe in Family Circle magazine's Mountains of Family Fun story in the June issue (page 87), Crystal Mountain lives up to the title with new amenities, activities and adventures this summer. NEW! Hooked for Life Crystal Mountain is partnering with Captain Ben Wolfe of Wolfe Outfitters to explore one of the country's most diverse fisheries. On-premise casting clinics are available for free. Private, semi-private and group casting and fly fishing lessons as well as guided trips are available on the area's blue ribbon trout and salmon streams.