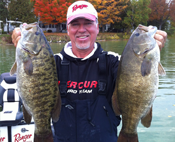 Captain Marcel Veenstra
Location: St. Clair Shores, Detroit, Northern Michigan
Bodies of water fished: Lake St. Clair, Detroit River, Lake Michigan, Northern Michigan Inland Lakes
Species: Smallmouth Bass, Largemouth Bass, Walleye

Fishing has been a passion of Marcel's throughout his whole life. He started out bass fishing in many of the small ponds in his native state of New Jersey. Once school let out, he would run to the closest pond and fish until dark. As he grew older, the desire to compete in a bass tournament became inevitable. He fished his first good-sized tournament on the Potomac River in Maryland, and was fortunate enough to cash a check. At that point, he was hooked on tournament fishing. Soon, he had qualified for both the FLW and Bassmaster Tours.

Marcel made the commitment to fish both tours as a professional. Through years of touring, he gained a lot of knowledge and experience by fishing many different bodies of water through ever-changing conditions. Some of his career highlights include: BFL All American qualifier, Bassmaster Open Championship qualifier, Everstart Championship qualifier, Everstart 2002 Angler of the Year, FLW Tour Championship qualifier.

In 2004, Marcel moved to Michigan and has been fishing Lake St. Clair, Lake Erie, and various inland lakes - some of his favorites are in northern Michigan. He is now at the point in his career where he enjoys sharing his knowledge and experience with others who have the same passion. Whether you are an experienced tournament angler, or a novice looking for an instructional trip to hone your skills, he will tailor a trip to meet your needs.