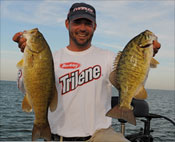 Captain Kevin Long
Location: Detroit and St. Clair Shores
Bodies of water fished: Lake St. Clair, Detroit River, Lake Erie and Southeastern Michigan Inland Lakes
Species: Smallmouth Bass, Largemouth Bass, Muskellunge, Walleye

Native to southeast Michigan, Captain Kevin Long grew up fishing for just about every fresh-water species available. After graduating from Michigan State University, Kevin began pursuing his dream of fishing professionally, by guiding and fishing the B.A.S.S and FLW tournament circuits.

Using his years of experience as a tournament pro and full-time guide, Kevin helps customers to catch their fish of a lifetime, whether it's smallmouth bass on Lake St. Clair, muskies on the Detroit River, or largemouth bass down in Florida on Lake Okeechobee. Fishing is all done in style and comfort, on a Ranger Z-520 Comanche bass boat.

Kevin spends summers in Michigan, guiding customers on Lake St. Clair and the Detroit River for trophy smallmouth bass and big muskies. For these fisheries, he uses artificial lures, and Kevin knows what works best.

His winters are spent guiding on world-famous Lake Okeechobee, in Clewiston, Florida. Based out of the Roland Martin Marina, Kevin is one of the marina's top guides. Lake Okeechobee is famous for its tremendous largemouth fishing, both on artificials and by using live shiners fished under a float.