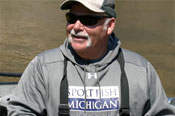 Captain Jeff Mallory
Location: Frankfort, Manistee and Kalkaska
Bodies of water fished: Grand Traverse Bay, Manistee, Betsie and Platte Rivers, Platte Bay and Northern Michigan Inland Lakes
Species: King Salmon, Coho Salmon, Steelhead, Rainbow and Brown Trout, Smallmouth Bass, Gar, Panfish, Ice Fishing

Jeff is a life-long fly fisherman, fly tier, and accomplished fish carver. He is also an accomplished gear angler, learning from his father at an early age. He recently retired from the Coast Guard and has fly fished throughout the country - extensively in Alaska and The Great Lakes. He lives with his wife, Diane, in Frankfort, Michigan.

Jeff has extensive of knowledge of both the Platte and Betsie Rivers, but is equally comfortable on the Manistee River and countless other northern Michigan waters, including Platte Bay, where he utilizes his U.S. Coast Guard Captain's license.

Trout, steelhead, salmon, and warm-water species in our area waters... Jeff loves chasing them all. He especially enjoys introducing people to fly fishing and is a Wolfe Outfitters fly fishing clinic instructor. Jeff also takes many trips out on Platte Bay, in the Sleeping Bear Dunes National lakeshore in early September where the coho salmon stage to run the rivers.