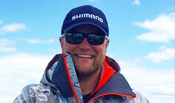 Captain Chad Dilts
Location: Traverse City, Manistee, Frankfort, Detroit, Saginaw
Bodies of water fished: Grand Traverse Bays, Manistee River, Platte River, Platte Bay, Detroit River, and Saginaw River, and Northern Michigan Inland Lakes
Species: Smallmouth Bass, Largemouth Bass, King Salmon, Coho Salmon, Lake Trout, Steelhead, Walleye, Cisco, Trout, Perch, Pike, Ice Fishing

Chad grew up in Benzie County, enjoying fishing the beautiful streams and rivers in the area for steelhead, trout, salmon and smallmouth bass. He refined his skills on the Big Three rivers in northern and lower Michigan. Primarily fishing with traditional gear, Chad has fished on the Great Lakes for salmon, lake trout, browns, steelhead, and smallmouth bass for the past eleven years as an angler and guide.