Featured Videos from SFM Captains and Guides
---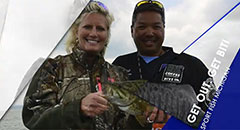 Get Out, Get Bit! Sport Fish Michigan is your source for the best fishing guides in Michigan. Featuring guided fishing trips for all species and all seasons in Michigan.
---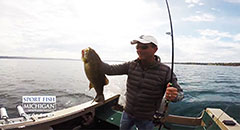 Northern Michigan offers world-class bass fishing. The fall season is a great time to fish for bass with one of Sport Fish Michigan's experienced Captains!
Read Transcript
For more information, please give Sport Fish Michigan a call, or check us out on the web at www.SportFishMichigan.com.
---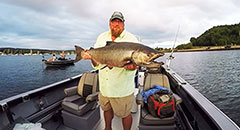 Vertical jigging for King Salmon and Coho Salmon on Lake Michigan - Grand Traverse Bays and Platte Bay. Book your hands-on, light tackle, vertical jigging trip with Sport Fish Michigan to experience the best Michigan fishing.
---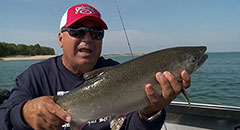 Hook n' Look's Kim Stricker takes a break from bass fishing to give coho salmon fishing on Platte Bay with Sport Fish Michgan a try. He's hooked!
Read Transcript
All my bass fishing buddies out there would absolutely love this. I mean we all like to get anything that tugs at the end of a line - but this is unique! Talk about exciting, when you're staking them, and you're visually seeing schools and the followers. When they finally take the bait, man they just fight like crazy! What a beautiful fish, and a good eating fish, too. If you get up here with Sport Fish Michigan, do a little smallmouth fishing, and then get out here in Platte Bay and catch some cohos. If you're looking for a Captain or Guide in the State of Michigan, please give Sport Fish Michigan a call, or check us out on the web at www.SportFishMichigan.com.
---
Platte Bay, Lake Michigan, Sleeping Bear Dunes National Lakeshore offers incredible fishing opportunities for anglers. Clear water, beautiful scenery, and big fish abound. Join Sport Fish Michigan for a fishing trip on Platte Bay. Their experienced Captains and Guides are sure to put you on fish and ensure you have a great day on the water.
Read Transcript
To experience the thrill of sight fishing for coho salmon, give Sport Fish Michigan a call today.
---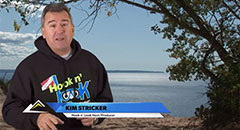 Kim Stricker from The Outdoor Channel's Hook n' Look television show talks about fishing with Sport Fish Michigan's Guides and Captains.