Featured Videos from SFM Captains and Guides
---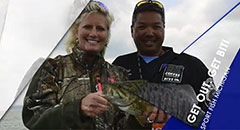 Get Out, Get Bit! Sport Fish Michigan is your source for the best fishing guides in Michigan. Featuring guided fishing trips for all species and all seasons in Michigan.
---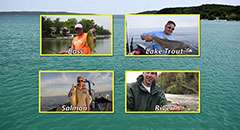 Summer Fishing in Michigan tremendous opportunities to fish for smallmouth bass, lake trout, king salmon, and coho salmon... abundant in Michigan's beautiful rivers and lakes!
---
Vertical jigging for King Salmon and Coho Salmon on Lake Michigan - Grand Traverse Bays and Platte Bay. Book your hands-on, light tackle, vertical jigging trip with Sport Fish Michigan to experience the best Michigan fishing.
---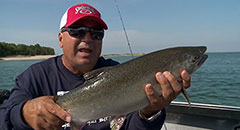 Hook n' Look's Kim Stricker takes a break from bass fishing to give coho salmon fishing on Platte Bay with Sport Fish Michgan a try. He's hooked!
Read Transcript
All my bass fishing buddies out there would absolutely love this. I mean we all like to get anything that tugs at the end of a line - but this is unique! Talk about exciting, when you're staking them, and you're visually seeing schools and the followers. When they finally take the bait, man they just fight like crazy! What a beautiful fish, and a good eating fish, too. If you get up here with Sport Fish Michigan, do a little smallmouth fishing, and then get out here in Platte Bay and catch some cohos. If you're looking for a Captain or Guide in the State of Michigan, please give Sport Fish Michigan a call, or check us out on the web at www.SportFishMichigan.com.
---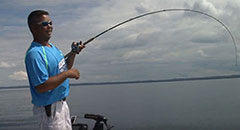 Sport Fish Michigan's Capt. Ben Wolfe is featured in this week's AnglingBuzz Technique of the Week: Precision Vertical Jigging for Michigan Lake Trout
---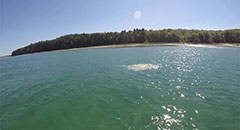 Platte Bay, Lake Michigan, Sleeping Bear Dunes National Lakeshore offers incredible fishing opportunities for anglers. Clear water, beautiful scenery, and big fish abound. Join Sport Fish Michigan for a fishing trip on Platte Bay. Their experienced Captains and Guides are sure to put you on fish and ensure you have a great day on the water.
Read Transcript
To experience the thrill of sight fishing for coho salmon, give Sport Fish Michigan a call today.
---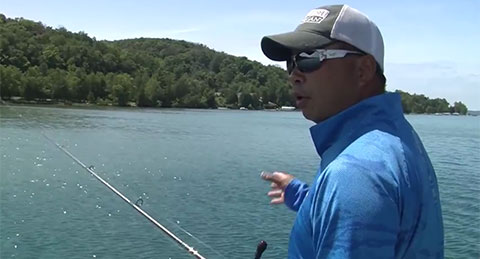 Captain Ben Wolfe of Sport Fish Michigan demonstrates the use of soft plastic jerkbaits for post-spawn bass fishing.
Read Transcript
One of the things I love about northern Michigan is that we don't always have to have fish on beds to be able to sight fish. By that, I kind of alter the definition of sight fishing just a little bit. Because we have such clear water up here, we can go and sight cast at various targets - whether it's a laid-down log, a rock, weed line, really what-have-you. And a lot of times, cruising fish, as well. We're looking for the structure and making casts to that structure even before we necessarily know that there's a fish there. A lot of times, we can watch a follow, or watch the take, depending on the type of bait we're using. Sight fishing up here can be a really special thing to do, but it doesn't always have to be on beds - and that's kind of the great thing about fishing in clear water. Jika rig tube in there. See if we can get one to come out. There we go! Good one! Good one! That is what we came in here for. You know, I just cast at a likely looking boulder there. I cast on the side. You always want to make sure you go past it, that way the bait is working true when it comes in there. And good things like this. Let's get this one back. One really critical thing when we're structure fishing on these northern Michigan waters is if you find a smallmouth relating to, say, a rock, and it's on one side of the rock - really try to pay attention. A lot of times, throughout the day, what we'll notice is that those fish will orient on that same side of the rock, whether its the northeast side or the south side. That can really help pinpoint when you see structure and you know then which side of that structure to cast to. That way, we can make a good, accurate cast at that fish the first time, and not have to necessarily hunt out or spook them, alerting them to our presence. There we go! One cast! This is so much fun! There is just no quit in these northern Michigan smallmouth. They're so awesome. Beautiful northern Michigan smallmouth. Let's get him back in the water. That was a fun afternoon. We worked our way around a shallow flat, looking for isolated structure, made some casts with a Jika rig tube, and used a drop-shot rig as a follow-up. Got some really nice fish, and that's really what it's all about. This pattern holds true whether it's pre-spawn like we're in now, or the spawn, or post-spawn, and throughout the summer and fall. Clear water - and these fish are going to orient to any kind of structure. Just cast past it, bring your bait close to it, and probably - more than likely good things will happen for you. For more information, or if you're looking for a Captain and Guide in the State of Michigan, please give Sport Fish Michigan a call, or check us out on the web at www.SportFishMichigan.com.
---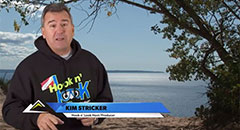 Kim Stricker from The Outdoor Channel's Hook n' Look television show talks about fishing with Sport Fish Michigan's Guides and Captains.